SharePoint Online from Scratch
Overview
SharePoint Online tutorials by Peter Kalmström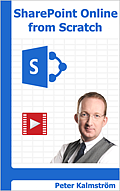 The kalmstrom.com SharePoint Online from Scratch tutorials are intended for beginners who need to learn from the basics and for more advanced users who want to polish their SharePoint skills. They are an extra bonus to the book SharePoint Online from Scratch, which is available both as paperback and as e-book.

The combination of book and Tips articles with demos gives a more structured learning and a deeper understanding of how SharePoint works, but if you just want to check some features you are welcome to browser among the articles here.

All demos are recorded by Peter Kalmström, CEO and Systems Designer of kalmstrom.com Business Solutions. He uses the Office 365 Enterprise E3 plan for this series.

SharePoint Online from Scratch covers a wide range of SharePoint features. Peter starts with very basic information and proceeds through the series towards more advanced tips and tricks.

You can follow the series by using the back and forward arrows at the bottom of each page, or you can browse among the articles from the table of contents below. The book has links to suitable articles directly after sections with connected information.

If you are not used to Office 365, please first study the "Get started" articles in our Office 365 from Scratch series. The book also includes a chapter on Office 365 in general.


SharePoint Online from Scratch tutorials

Get Started
SharePoint Designer
Add Content
Comparison Excel-SharePoint
Introduction to Pages
Pictures
Hotspots images
OneDrive for Business
Links
Various
Connect to Outlook
Categorization
Views
Word Online
Content types
Helpdesk list enhancements
Search
Web Parts and Web Parts connection
Navigation between site collections
Forms
Rental Agreements
Phone Messages
From SQL to SharePoint
Meetings Management
SharePoint Server Publishing Infrastructure