SharePoint Online from Scratch
Updated in March 2021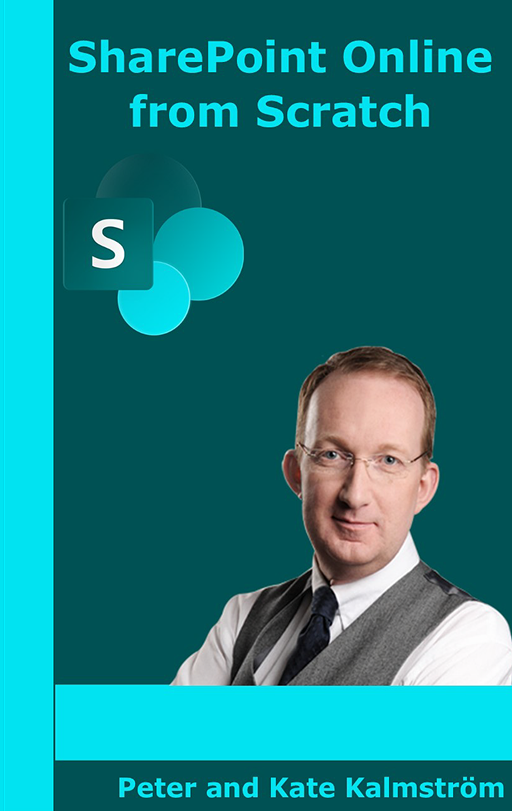 SharePoint Online from Scratch focuses on no-code, hands-on instructions and explanations on how to practically make use of a SharePoint tenant for collaboration within an organization.

The book is intended for (future) SharePoint admins and other power users. It covers both the modern and the classic experience and includes information about best practices, administrator settings, permissions and security.

SharePoint Online from Scratch also gives examples on how to use SharePoint for management of common business processes.

Many sections in the book have links to SharePoint Online Tips articles with demos recorded by Peter Kalmströsm. These demos are not showing the latest SharePoint versions, but we hope you will still find it useful to see them and listen to Peter's reasoning.

For variation and learning by doing, it is recommended to also work with the exercises in SharePoint Online Exercises when you have achieved some basic knowledge about SharePoint.

Microsoft often adds enhancements to their cloud platform, but by understanding why things are done the way they are, you will be able to figure out how to do things described in SharePoint Online from Scratch and other instructions, even if the actual steps are changed a bit.

The comprehensive understanding given in SharePoint Online from Scratch, will also help you explore SharePoint far beyond the limits of any book and make the platform serve your organization in the best possible way!

SharePoint Online from Scratch is available as Kindle e-book, paperback and hardcover, all sold via Amazon.

SharePoint Online from Scratch was published in March 2016, but the book has been continuously updated. The latest update was published in March 2021.

Amazon reviews:

"The First SharePoint Online Book I Now Recommend To My Clients
I did an exhaustive examination of the Table of Contents of almost every recently published SharePoint book available on Amazon. Peter's organization of the information in his book was exceptionally notable - and was my first purchase. My intuition was correct - and I have not been disappointed. His writing is concise - and provides immediate actionable value."

"I was looking for a comprehensive book on SharePoint Online and after much research and downloading of samples I bought the kindle version of this book. Absolutely fantastic!! It is really well structured and signposted and has active links that take you to Peter's excellent website where you can see really clear video tutorials of each element. I am fairly techno savvy and have a small business that is just deploying Office 365 and SharePoint online to help teams collaborate. Thank you Peter for creating a really excellent product."




Learn more








From Amazon reviews:

"Just started by SharePoint journey and found this book to be exceptional. You will not find a more up-to-date resource!
I also find the online tutorials very helpful in understanding and reinforcing key concepts. This book pays for itself by many multiples."

"Excellent - easy to follow and well explained features and functions to implement Sites."

"Excellent explanations and good pacing."

"Well done Peter. This is the first SharePoint book that made me think that SharePoint might be worth the effort. This book helps with good examples and a methodical approach."

"Gute Arbeit-Besser geht es nicht."

"Als Einstieg in das Thema SharePoint und PowerAutomate ist das Buch hervorragend gemacht."

"Solutions rapides afin de créer un SharePoint de bonne qualité."

"A great source of information for someone new to Sharepoint on-line and expected to set up and administer Sharepoint for a small business.

"Well written, easy to follow. Great for someone new to SharePoint. If you have Office 365 and want to learn to use SharePoint this is a great starting point. "

"It impressive the amount of information and knowledge that can be gained from this book. I started briefly reading through the first chapter and relized how in depth this person is on the subject at hand."

"Was an easy read. I would HIGHLY recommend getting a free online account to practice with as some of the items you need to actually do to grasp the meaning of it. Very structured and there are YouTube (found them myself) videos of the chapters he is referring to as an added bonus. Highly recommend this book as a guide for beginning SharePoint online."

"Peter has done a great job, and I'm looking forward to reading some of his other books."
LinkedIn
Facebook
Twitter