SharePoint Online from Scratch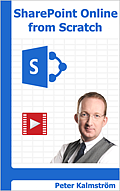 In SharePoint Online from Scratch I focus on no-code, hands-on instructions and explanations on how to practically make use of a SharePoint tenant for collaboration within an organization.

SharePoint Online from Scratch also gives examples on how to use SharePoint for management of common business processes.

Many sections have links to our more than 200 SharePoint Online Tips articles. Consider these articles as a good complement to the book. By also studying SharePoint Online from Scratch, you will have a deeper and more structured learning process and a better understanding of how Office 365 SharePoint works.

Microsoft often adds enhancements to their cloud platform, but by understanding why things are done the way they are, you will be able to figure out how to do things described in SharePoint Online from Scratch and other instructions, even if the actual steps are changed a bit.

The deeper understanding given in SharePoint Online from Scratch, will also help you explore SharePoint far beyond the limits of any book and make the platform serve your organization in the best possible way!

SharePoint Online from Scratch is avaliable as e-book and paperback, sold via Amazon.

SharePoint Online from Scratch was published in March 2016. Updated with the new page model, the new library experience, Flow and PowerApps in March 2017.

Learn more about the latest edition in the kalmstrom.com Blog!



From Amazon reviews:

"Just started by SharePoint journey and found this book to be exceptional. You will not find a more up-to-date resource!
I also find the online tutorials very helpful in understanding and reinforcing key concepts. This book pays for itself by many multiples."

"Excellent - easy to follow and well explained features and functions to implement Sites."

"Excellent explanations and good pacing."

"Well done Peter. This is the first SharePoint book that made me think that SharePoint might be worth the effort. This book helps with good examples and a methodical approach."

"Gute Arbeit-Besser geht es nicht."

"Solutions rapides afin de créer un SharePoint de bonne qualité."

"A great source of information for someone new to Sharepoint on-line and expected to set up and administer Sharepoint for a small business."