SharePoint Online Essentials
Updated in February 2021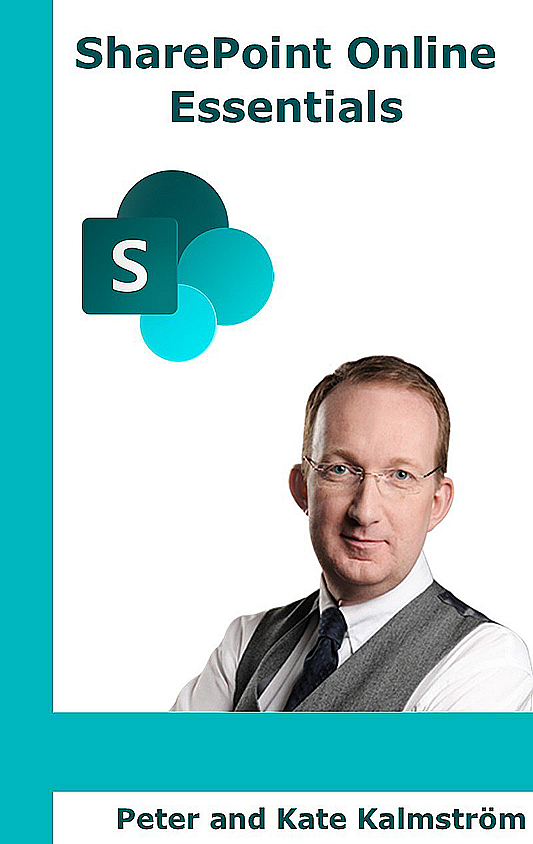 SharePoint Online Essentials is a book for the ordinary user who only needs to know the basics about SharePoint Online.

In SharePoint Online Essentials Peter Kalmström explains how SharePoint lists and libraries work and how users can add, manage and share content. Peter also describes how to create modern site pages as well as Group Team and Communication sites.

Each user's personal OneDrive for Business is also introduced, and the book explains what to think about when you share content from SharePoint, OneDrive and your computer.

Finally, SharePoint Online Essentials describes the built-in flows for reminders and approvals that are available in the modern app interface and the survey service that can be reached Groupt Team sites and OneDrive for Business.

SharePoint Online Essentials is available as Kindle e-book and paperback from Amazon.

An extract from SharePoint Online Essentials in PDF format may be downloaded for free from the European SharePoint, Office 365 & Azure Community.

For (future) administrators and other power users, we recommend SharePoint Online from Scratch. This book also starts with the basic, but it goes further and includes the classic experience, admin settings, security and much more.


Contents
1 INTRODUCTION

2 365 NAVIGATION BAR

3 SHAREPOINT APPS

4 LIST APPS

5 LIBRARY APPS

6 SHAREPOINT SITES

7 ONEDRIVE FOR BUSINESS

8 SITE PAGES

9 PERMISSIONS AND SHARING

10 POWER AUTOMATE BUILT-IN FLOWS

11 FORMS FOR EXCEL