SharePoint Online Exercises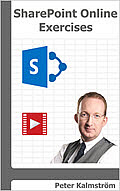 SharePoint Online Exercises can be used independently, but I recommend to use it together with SharePoint Online from Scratch for variation and learning by doing.

Follow the detailed step by step instructions in SharePoint Online Exercises and build a SharePoint intranet for a small business.

After that you will learn how to create useful apps and solutions for your organization.

Each chapter of SharePoint Online Exercises has a link to a kalmstrom.com Tips article with a video demonstration. Several chapters also give links to download of files that can be used in the exercise.

SharePoint Online Exercises is available as e-book and paperback, sold via Amazon.


From Amazon reviews:

"Covers the key processes that you will need using SharePoint."

"Good exercises. Well presented."

"Big plus is official YouTube videos which helps when you feel you are stuck."





Exercises
CLASSIC SHAREPOINT INTRANET

MODERN SITES INTRANET

PHONE MESSAGES LIST

PROJECT CONTENT TYPES

DOCUMENT LIBRARY TEMPLATES

SHAREPOINT RESOURCE BOOKING SYSTEM

CONNECT APP PARTS

WORKFLOW THAT SENDS E-MAIL NOTIFICATIONS ABOUT HIGH PRIORITY TASKS

ADD A LIVE CHART TO A PAGE WITH EXCEL WEB ACCESS

CUSTOMIZE A MASTER PAGE FOOTER

CREATE A PROJECTS DOCUMENT SET