Word 2016 from Scratch

Introduction and Navigation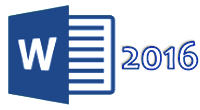 A Word tutorial by Peter Kalmstrom
In this demo Peter Kalmström, CEO and Systems Designer of kalmstrom.com Business Solutions, gives an introduction to Word 2016 and shows two different ways to do headings in a blank document.

This is what Peter shows in the demo below:

How to start Word by either clicking on the start button or typing directly in the search window.
How to search and select online templates.
How to search by template category.
How to create a blank document.
How to select a heading style from the Styles ribbon.
How to select the Outline view and build a synopsis.
How to use the Outline tools to select different Outline levels.
How to switch among different headings from the Navigation pane.
Peter uses Word 2016 for his demo, but the Word basics are the same for earlier versions of Word.