SharePoint Search Configuration
A SharePoint tutorial by Peter Kalmstrom
This SharePoint Search tutorial is applicable to SharePoint 2013 on- premises, where the search engine scheduling needs to be configured before the SharePoint Search can be used.
(Office 365 SharePoint Online is pre-configured, and the Search settings cannot be changed.)

In the demo below Peter Kalmstrom, CEO of kalmstrom.com Business Solutions and Microsoft certified SharePoint specialist and trainer, shows how to configure the SharePoint Search in SharePoint 2013 on-premises Press release and explains the different scheduling options.


Step by step
On the server that is running your SharePoint Products, go to Start >Administrative Tools >SharePoint Central Administration.
In Central Administration, go to Manage Service Applications >Search Service Application.



Open the Content Sources.
Open the pre-configured content source in edit mode by right clicking and selecting Edit.
Under Crawl Schedules, select the option you prefer. In the demo Peter sets the schedule to continuous crawling of changes and a full crawling every day at noon.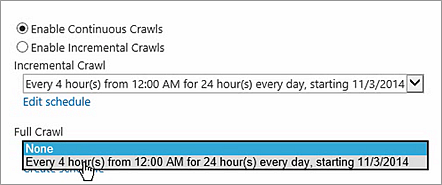 Crawl options
Incremental crawls find all additions, remove most deletes and update most of the security rules for items in the index.
A full crawl finds all changes, but it takes a long time to run and it cannot run in parallel with incremental crawls. After information architecture changes, such as adding or changing content types, managed properties or indexes, it is especially important to have a full crawl.
Continuous crawls are similar to the incremental crawls but run faster, update the index quicker and can be run in parallel with full crawls. Without advanced configuration you will usually get a 15 minute freshness on your index with this option.