Create Image Link from SharePoint Site
A SharePoint tutorial by Peter Kalmstrom
It is possible to link images from a SharePoint site. You can link any image from your Picture Library, and you can also create it. PowerPoint is really good for creating buttons or nice looking images.

In the demo below Peter Kalmstrom, CEO of kalmstrom.com Business Solutions and Microsoft certified SharePoint specialist and trainer, explains how to create and link images that have been uploaded to a SharePoint site.


Create an image in PowerPoint
Open PowerPoint.
Under the Insert tab, click on Shapes.

Select any shape.
Right click on the image and select Edit Text.
Write the text you want to see on the button.
Open the Format tab. Here you can select predefined formats under the 'Shapes Styles' ribbon group. You can also change style of your text under the 'WordArt Styles' ribbon group.
Right click on the image and select Save as Picture.
A Save As Picture dialog will open. Type the image name in the File name field and click on Save.
Go back to the SharePoint page.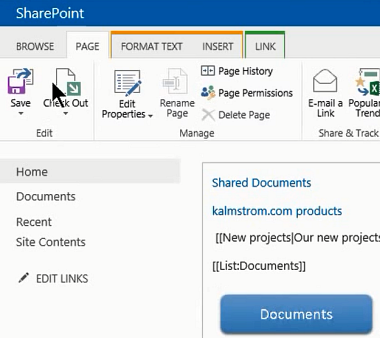 Upload an image to SharePoint and make it a link
Open the page where you want to place the image link in Edit mode.
Click on the Picture button under the Insert tab to upload the image.
Select the option "From Computer". An Upload Image dialog will open.
To upload the image to the Site Assets Library, click on Browse and choose a file.
Click Ok.
Now you probably have to resize the image.
Copy the path to the place you will link the image to.
Open the Insert tab. Click on the Link button and select "from Adress".
Paste the path in the Address field.
Click OK and Save the page.





Promoted links is another kind of image links. In a separate Tips article Peter explains how to create image links similar to the ones you can find on the start pages of new SharePoint 2013 team sites.