Move huge numbers of files into SharePoint with PowerShell
Move files into SharePoint – Introduction

SharePoint tutorials by Peter Kalmstrom

In a series of articles Peter Kalmstrom, CEO of kalmstrom.com Business Solutions and Microsoft certified SharePoint specialist, describes the process of moving millions of Office files from a files server to SharePoint.


Move files into SharePoint tutorials

Each tips article gives a written explanation, a video demonstration, at least one downloadable PowerShell script and a link to a blog post that discusses the same subject as the Tips article.


The four Tips articles build on Peter's session at the SharePoint Saturday in Stockholm in January 2014.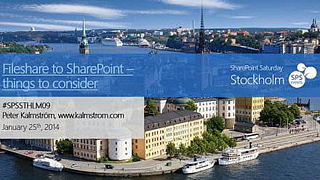 Peter's session was very appreciated, and he was judged the second best of the 21 speakers after 96 % of his rates were positive. We hope the articles, demos and scripts will be useful to you also!