Use Live SharePoint Data In Microsoft Access
An Access tutorial by Peter Kalmstrom
kalmstrom.com CEO Peter Kalmstrom is an expert on both SharePoint and Access. In this demo he shows how to link data from a SharePoint list to an Access table and how to work with the live data in Access.

Peter uses SharePoint and Access 2010, but it works in a similar way in SharePoint and Access 2013.

By linking SharePoint data to Access and work with it there, it is possible to use Access functionality that is not available in SharePoint. What you do with the SharePoint data in Access is automatically reflected back to the SharePoint site.

Peter explains how to get the SharePoint list items into the Access table, and after that he gives some examples on what you can do easily in Access that is hard or impossible to manage in the SharePoint site.
Search and Replace live SharePoint list items by using Access


Create Access Queries for use on live SharePoint list items


Create Access Forms and use them with live SharePoint list items


Create and Print Access Reports from live SharePoint list items


Use Visual Basic in Access on live SharePoint list items





In the demo Peter shows how to link to Access via the SharePoint list datasheet view.

You may also go the opposite way, from Access to SharePoint. In that case, open Access and create a table. Then link the table to SharePoint via the Access External Data tab: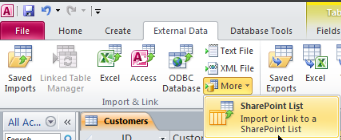 See also
the kalmstrom.com Blog post about using SharePoint data in Access
Always the latest news in
the kalmstrom.com blog
Follow kalmstrom.com on

LinkedIn

,

Facebook

,

Google+

or

Twitter

!