Add a Visio Web Drawing to a SharePoint 2013 Page
A SharePoint tutorial by Peter Kalmstrom
In the demo below Peter Kalmstrom, CEO of kalmstrom.com Business Solutions and Microsoft certified SharePoint specialist and trainer, explains how to add a Visio web drawing to a webpart in a SharePoint 2013 site page.

You need to have the Enterprise version of SharePoint to use Visio Services and the Visio Web Access Web Part.

Peter is using Office 365 and SharePoint 2013 for
this demonstration.

The Visio drawing will show live data in SharePoint. Visio Services can refresh the connections to various data sources and recalculate graphics and text fields.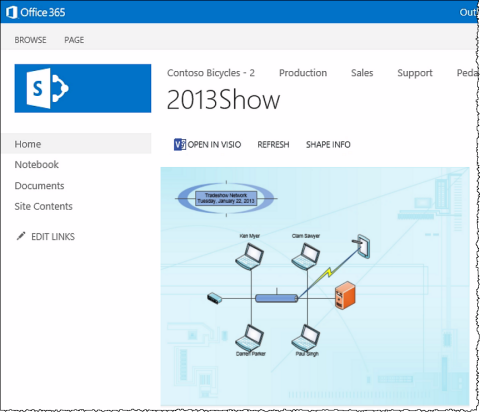 These are the main step for adding the Visio drawing:
Open a Visio file in Visio and save it to a SharePoint document library as a Visio Web drawing
Add a Visio Web Access Web Part to a SharePoint page.
Connect the Web Part to the Web drawing file.
Watch the video