SharePoint Online Exercises
Overview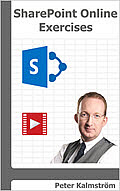 The kalmstrom.com Tips series SharePoint Online Exercises is created for the book SharePoint Online Exercises by Peter Kalmström, CEO and Systems Designer of kalmstrom.com Business Solutions.

SharePoint Online Exercises is available at Amazon in two editions: Kindle e-book and paperback. It is intended for SharePoint admins who know the basics about SharePoint and want to learn more by working with example exercises.

You are of course welcome to browse among the exercises and watch the demos even if you haven't bought the book, but we recommend you to get the book also. It gives more information and detailed step by step instructions with plenty of images.

Peter has used the Office 365 Enterprise E3 plan for this series. In the first exercise, which is one of the most comprehensive, we create a SharePoint intranet for a small business. In most of the subsequent exercises we will then add more functionality to that intranet.


SharePoint Online Exercises