SP Archive for Microsoft SharePoint

No more problems with SharePoint list limits

Solution for customized archiving and backup


SP Archive is a solution for customized archiving of SharePoint list items. Archive exactly the items and fields you want to save!

The larger and more complex your data is, the more important it is to use a database instead of SharePoint or Excel. SP Archive is easy to use and gives consistency if you need to do multiple exports over time.


Workflow
Based on user selected filters, SP Archive reads information from a SharePoint list and copies it into a Microsoft Access or SQL Server database.

There is an option to either remove the data from the original SharePoint list at archiving or let it stay. Therefore SP Archive may be used both for back-up copies and for storage of items that must be deleted from SharePoint.


Design
SP Archive is installed and registered on each PC where it should be used. When you open SP Archive you will reach a dialog with buttons for Settings, where the SharePoint site(s) and list(s) are defined, and for Archiving, where you select what items and what fields in those items should be archived.

You can use several SharePoint sites and databases with SP Archive. The solution supports all editions of SharePoint 2010 and above, including Office 365 SharePoint, and all versions of Microsoft Access and SQL Server.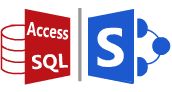 Features
Select in detail what items and what fields in those items that should be archived.


It is possible to use multiple databases.


Removal selection. Avoid problems with SharePoint list limits by letting SP Archive delete archived items automatically.


Filter lists by many different parameters, so that you quickly can find the items that should be archived.


Export the archived items to Excel for quick overviews.


Organizational version:

EUR 53 / USD 60 per month
or
EUR 583 / USD 660 per year
Support, upgrades and free use within the organization included.